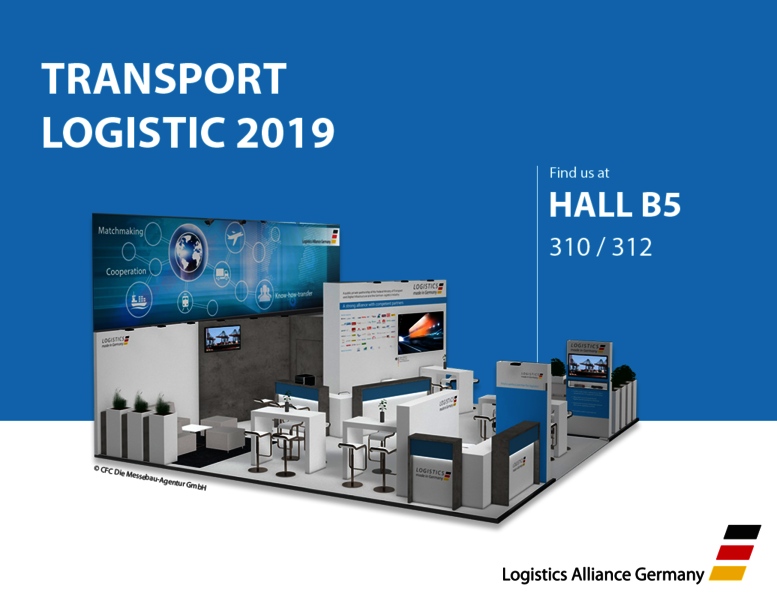 LAG to Host Stand and Events at Munich's transport logistic, June 4-7
logistic
28 May 2019
307 Views
Comments
When transport logistic, the world's leading trade fair for logistics, mobility, IT and supply chain management, opens its doors from June 4-7, 2019, Logistics Alliance Germany (LAG) will naturally be in attendance once again with its own stand and numerous events.
transport logistic is a global hub for the logistics industry, and we look forward to welcoming many of our international network partners on the first evening of the fair at our LAG "Friends & Partners" evening reception, also a chance to forge connections with new, future partners. The event will be held from 6 p.m. at Franziskaner Wirtshaus & Biergarten, Friedenspromenade 45, Munich 81827.
On the following day, June 5, you are cordially invited to a reception hosted at our 90-sq-m LAG stand (Hall B5, Stand 310/312). Over snacks and drinks, participants will have numerous opportunities to connect with representatives from the German logistics industry, especially members from the ranks of the Association for the Development of Logistics Alliance Germany (Förderverein LAG e.V.).
Over the course of the fair, LAG will host two specialized forums:
At noon on Wednesday, June 5, will be Forum IV with the suggestive title "Blockchain – Enabler of the Logistics of the Future." (Location: Hall A4 West.) High-caliber speakers will use practical examples to demonstrate how Blockchain technology can advance logistics processes at a variety of stages.
At noon on Friday, June 7, will be Forum III, with a focus on "Fast Track Logistics – Innovative Logistics Solutions for the International Market." (Location: Hall A4 East.) Transport, handling, and warehousing are some of the basic functions of logistics. However, logistics is also a broad field with the potential to welcome a wide range of innovation, with logisticians playing the role of architects of international transport relations. This forum will explore the significance of logistics both today and in the future, and illustrate why it is such an exciting field.
For more information on the forums and our program during transport logistic, stay in touch and follow us on Twitter and LinkedIn. We look forward to welcoming you at the LAG stand in Hall B5 (Stand 310/312).