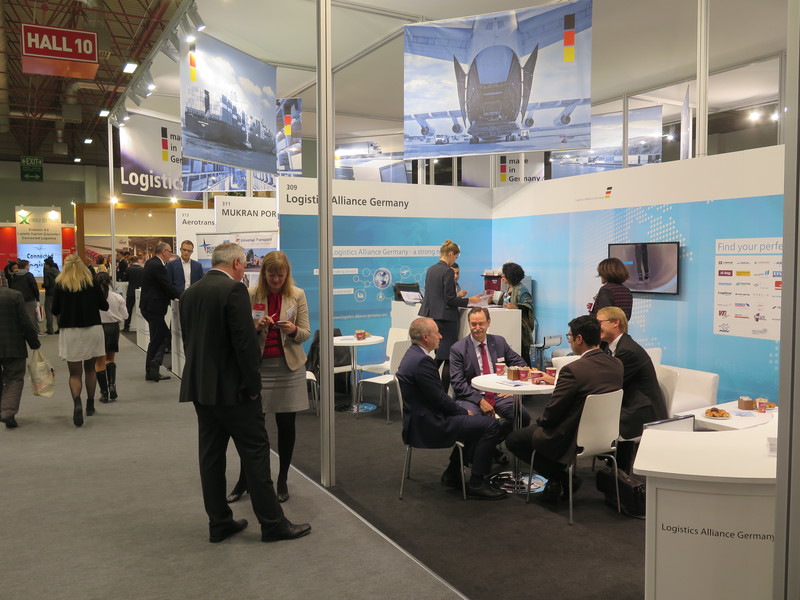 logitrans Istanbul Remains an Important Trade Fair for German Logistics
logistic
28 May 2019
644 Views
Comments
During the 2018 logitrans trade fair in Istanbul, held from November 14?16, German logistics companies had the opportunity to take part in a Delegation Day as well as a Business Breakfast organized by the Logistics Alliance Germany (LAG). In addition, the marketing initiatives of the LAG were on full display at the joint German stand at the trade fair. More than 100 discussions were held there, during which the merits of Germany as a logistics location were promoted.

As the central point of contact for German logistics providers, the LAG offers a free matchmaking service to connect international businesses and associations with partners in the German logistics industry. This service was well received by the attendees at logitrans, which consisted primarily of Turkish logistics experts and representatives from Eastern Europe, Russia, and Iran. Amongst the visitors were also shipping agents who were well served at the LAG stand in their search for experienced logistics partners.
On the day prior to the trade fair?s opening, the LAG organized talks with the Istanbul Chamber of Commerce, Ar?elik A.S., one of the most important manufacturers and exporters of white goods to Western Europe, and with Ekol Lojistic, a constantly growing logistics company pursuing concrete investment projects in Germany. This Delegation Day also received political support from Germany?s Federal Ministry of Transport and Digital Infrastructure.

Steffen Bilger, parliamentary secretary for the Federal Minister of Transport and Digital Infrastructure and government coordinator for freight transport and logistics, travelled to Istanbul to attend the opening of logitrans. Bilger also opened the LAG forum during which the advantages of Made in Germany logistics solutions were particularly emphasized. The forum gave German companies including Am Zehnhoff-S?ns GmbH, F?hrhafen Sassnitz GmbH, and KombiVerkehr GmbH & Co. KG the platform to introduce their services to the trade fair visitors.

The LAG Business Breakfast kicked off the second day of the trade fair, an event that has proven very popular since 2015. Numerous Turkish attendees took advantage of this opportunity to have discussions with members of the Association for the Development of the Logistics Alliance Germany (F?rderverein LAG e.V.), a bilateral exchange that sowed the seeds for numerous possibilities for closer partnership.

The geographically advantageous location of Istanbul once again drew logistics stakeholders from around the world to logitrans. In addition to national pavilions from Germany, France, and Austria, high-level representatives from China and Iran were also in attendance.