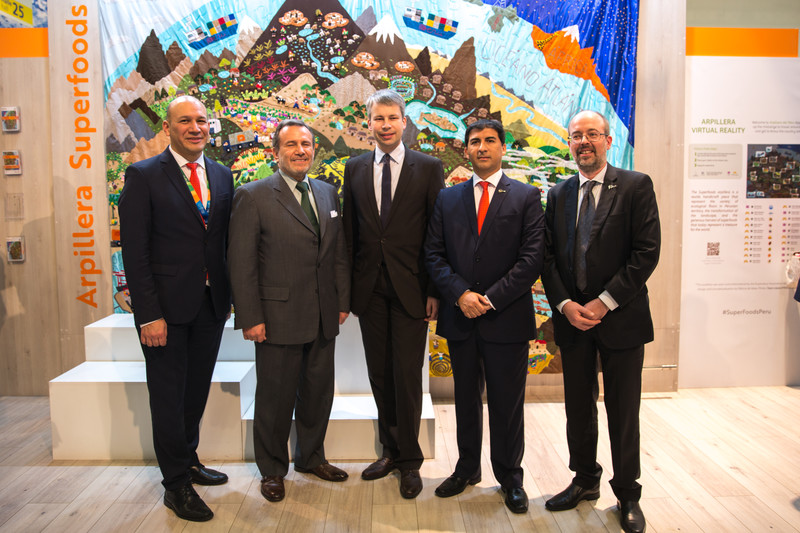 Looking Back: Fruit Logistica 2019 [Translate to englisch:] Fruit Logistica
logistic
28 May 2019
368 Views
Comments
On February 6, Logistics Alliance Germany (LAG) hosted its first event of 2019. As in previous years, LAG organized a tour of the Fruit Logistica trade fair, focusing on exhibitors from Central and South America, followed by an evening reception in the Funkturm restaurant on the Messe Berlin exhibition premises. The event provided an opportunity for representatives from the Central and South American companies to network with players from across the German logistics industry. Fruit Logistica is the leading trade fair for the international fruit industry, drawing shippers and producers from across the world to Berlin every year. Producers and exporters from Latin America have traditionally been a core focus of the fair.

During the two-hour walking tour, Steffen Bilger, parliamentary secretary for the Federal Minister of Transport and Digital Infrastructure, spoke with representatives at South and Central American stands and extended a personal welcome to visiting foreign dignitaries. Amongst these were Eduardo E. Carles, Panama's minister of agriculture, and Eduardo Palacios, Panama's deputy minister of economic affairs, as well as Xavier Lasso, Ecuador's minister of agriculture.

Following the tour, the 7th annual LAG reception at Fruit Logistica provided a lucrative opportunity for networking and paving new partnerships. The event was opened by Parliamentary Secretary Bilger and Frank Huster, managing director of the German Association of Freight Forwarding and Logistics e.V. (DSLV). Huster was in attendance as a representative of the Association for the Development of Logistics Alliance Germany (Förderverein LAG e.V.), together with a number of other Förderverein members. Among the guests welcomed by LAG were Florencia Vilanova de von Oehsen, ambassador of El Salvador; Elmer Schialer, ambassador of Peru; and Fernando Daniel Ojeda, ambassador of the Republic of Paraguay. The reception at next year's Fruit Logistica will be held on February 5, 2020. Save the date and don't miss out on this opportunity!